Kids' Fishing Day will be held May 17, 2003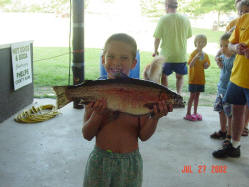 Click on picture to enlarge.
This was the biggest fish caught for the day. This rainbow trout weighed 4LB 10 oz.
---
The Maramec Spring Trout Fishermen's Association is a small but dedicated group of trout fishermen. The Association meets on a regular basis and sponsors several activities within Maramec Spring Park. Members enjoy fellowship with fellow trout anglers and a chance to participate and help with events. Our Big event is Kids' Fishing Day which is sponsored by the Missouri Department of Conservation. The Association works closely with the Department for Kids' Day. In addition to providing prizes and contests, members share their knowledge of fishing with kids, some who have never caught a fish before. Helping a kid land his first trout is an experience members never forget. In the fall, we co-sponsor the Fall Derby with the James Foundation. The big fish are up in the park and lunkers abound. Prizes, free food, and contests take place throughout the day and all proceeds benefit Kids' Fishing Day.
---
Our Mission
To Introduce and Educate Kids and their Parents to the Great Sport of Trout Fishing in Missouri. We hope to instill ethics as well a love for fishing the cold clear trout streams. Kids are taught not only the skills to successfully fish, but also to become good future stewards of our aquatic resources. The Trout Anglers of Tomorrow Are Today's Kids. Take a Kid Fishing Today!
---
We Want to Make Your Fishing Trips More Enjoyable
We will do our best to gather stream conditions and park news. Check our fishing conditions page every week!
---
Contact Information
Want to Join? Want more information? We are always looking for new members and sponsors. If you are interested in helping a kid gain skill and interest in fishing, forge an interest in the outdoors and respect for the environment, we need your help! Kids' Fishing Day has grown in the last five years from 250 kids participating, to over 1600 kids, and their parents.
---
Telephone

President Ron Watkins 314-638-2528

Vice President: Mary Fortner

Secretary: Karen Watkins 314-638-2528

Treasurer: Don Turner 636-
FAX

573-265-7417

Postal address

MSTFA
21880 Maramec Spring Drive

St. James Missouri 65559

E-Mail

General Information: trout250@swbell.net
Webmaster: trout250@swbell.net
Trout Fishermen have been here since July 31, 1999
Enter a City or US Zip:
Maramec Spring Park, St. James Missouri
Click Here
to Tell a Friend About This Website!
Karen Watkins
Copyright © 1999 by [Maramec Spring Trout Fishermens Association]. All rights reserved.
Revised: 18 Sep 2003 22:54:31 -0400 .